Welcome!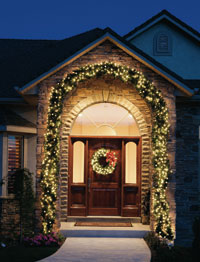 This is the official website of Illuminations Festive Lighting & Decor. We provide Ogden, Huntsville, Layton, Morgan, Bountiful, Syracuse, Park City and surrounding Utah
communities with
festive Christmas and event lighting as well as low voltage landscape lighting services. We provide the lighting design, sell professional lighting and decor supplies and provide complete professional installations.
3 Easy Steps to Beautiful Lighting
Step 1

- Call us today and we'll set up a time to meet with you and discuss your needs. During this appointment we'll design the perfect look and provide options so you have the freedom to pick and choose among the suggested items. Each item will show a price so you can make sure the look you desire matches the budget you have to work with.
Step 2

- We'll Arrive at the agreed upon date and professionally install your lighting. During this appointment we will respect your home and landscape, install everything as agreed, discretely place all cords out of sight and automate the lighting so you can enjoy hands off, trouble free lighting.
Step 3

- Enjoy peace of mind knowing that your lighting and decor is complete for the season! All without any member of your family being unnecessarily exposed to electrical hazards, ladder risks or lighting frustrations.
---
Now that you know how easy it is to get beautiful lighting for your home you may want to click on "Who We Work With" to find out the types of clients we serve or, if you already know that we are the company for you, call us right now for a free estimate.
---

How can we help you?
Owners Cell: 801.430.2427, Brian Smith

(no solicitors)
We look forward to providing you a great result every time you use Illuminations - Festive Lighting & Decor.
---
P

owered & Copyright by
EM4B
2009