Frequently Asked Questions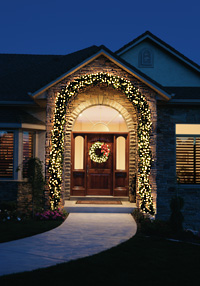 Do you only light up rooflines? No, we also light up ridge tops, trees, yard borders and sell gorgeous garland and wreaths of all sizes. All of our products are of the highest quality professional grade and built not only to last longer than what you can buy in the stores but is stunningly more beautiful. All the pictures on this site are taken from some of our actual jobs.
What does professional Christmas lighting cost? A typical home with only the roofline decorated would be in the range of $400 - $500 the first year and about $300 every year thereafter.
Are you licensed and insured? Are we ever! Unlike the part-time guys who appear on the Christmas lighting scene each fall, we carry a full $1,000,000.00 worth of liability insurance, are a legally licensed business and carry workman's compensation insurance for ladder and related seasonal lighting work. Hiring anyone less prepared puts you at a severe risk if, heaven forbid, any accident were to occur on your property.
Can I start out small and add decor as ideas and budget allow? Yes, you can have the roofline lighted the first year and add trees, garland and wreaths in subsequent years. We are flexible and a good source for decorating ideas.
What all does the service include? Our professional Christmas lighting service includes the lighting design, the installation, the materials, the maintenance of the installation while in use and the take-down of all decor when the season is over. Yes, this includes replacing burned out bulbs!
Do I own the lights or am I renting them? You are buying and therefore, own the lights. At the end of the season we will take them down, organize them and place them in a bin that you provide and keep. Next year we will call you when it's time for your install and have you place your lights and materials outside where we'll have access to it.
---

How can we help you?
Owners Cell: 801.430.2427, Brian Smith

(no solicitors)
We look forward to providing you a great result every time you use Illuminations - Festive Lighting & Decor.
Il

luminations Festive Lighting & Decor
requests a 24-hour notice for cancellation of any service or appointments.
---